October 15, 2019 by Amit Dhaniya
Gaya Trip Is More Than Buddhist Place
Gaya is more than just a Buddhist tourist place in India. Monasteries, chanting Buddhist hymns, monks, and not forgetting Mahabodhi Temple are the things Gaya is famous for. But, not many are aware of the fact that the city is an abode to one of 51 Shakti Peethas in India. It is also a place for Hindu devotees and many followers come here to worship and pay a visit to holy places. Let's find out these places to add in your things to do in Gaya Trip and visit them will make your trip memorable.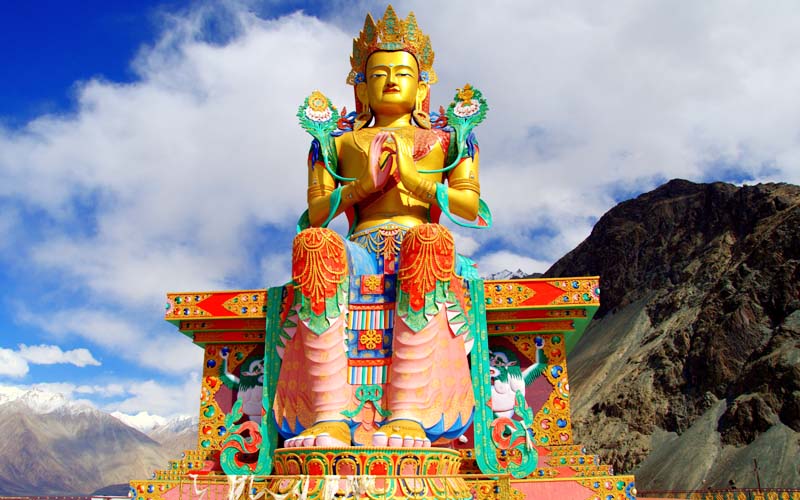 Visit Shaktipeeth, Mangla Gauri Temple- The Mangla Gauri Temple in Gaya has been mentioned in Agni Purana, Padma Purana, and Vayu Purana, as well as in different sacred books and tantric works. This temple is one of the eighteen Maha Shakti Peeths and the present temple complex is dated back to the fifteenth century. The temple is dedicated to Goddess Shakti or the Mother Goddess in the prevalently Vaishnavite journey pilgrimage spot of the Gaya trip. Here, she is worshipped as the goddess of generosity. The temple has an Upa-Shakti Pitha, a place that is believed that a piece of the group of Shakti fell when Lord Shiva carried her burning body. By folklore, Goddess Shakti's breast fell here and she is worshipped here as a symbol of nourishment.
Seeing ancientness of Vishnupad- Vishnupad Temple is another popular place to visit in Gaya which is renowned for its marvelous architecture. This place holds a prime religious value for Hindu devotees. The temple is dedicated to Lord Vishnu because the place where it is located is marked by the footprint of Vishnu and is known as Dharmasila. According to Hindu mythology, it is a place where Lord Ram visited with his wife Sita. Situated on the banks of the Falgu River, the original construction of the temple structure is unknown, but the temple complex that we see presently was reconstructed in the year 1787 by the queen of Indore, Devi Ahilya Bai Holkar.
Visit Dakshinaarka Temple and Offer prayer- Dakshinaarka Temple is also known as Sun Temple and is an antiquated place of worship in Gaya. The temple has its place in Hindu religious book Vaayu Purana. Those take Gaya tour packages for Pind daan, Dakshinaarka temple is of incomparable significance in this ritual. Devotees make offerings to their ancestors at the Surya Kunda or Dakshina Maanas tank which is constructed in front of Sun Temple. The present structure of the temple dates back to the 13th century by the South Indian emperor Prataparudra of Warangal. The temple is located near the famous Vishnupad temple and face towards the east. The design of the complex is simple and plain with a dome on top. Intricately carved stone sculptures of deities Brahma, Shiva, Vishnu, Surya, and Durga can be seen on the pillar of mandapa of the sanctum.
Pay homage at Prapita Maheswara Temple- It is one of the oldest Hindu temples in Gaya, dated back to the 11th century during the Pala dynasty. It is another striking religious site to visit in your Gaya tour packages which have been mentioned in the Hindu scriptures, Agni Purana. The temple is dedicated to Lord Shiva and is located in the Vaishnavite pilgrim town of Gaya. The temple is located adjacent to Bhramayoni and Vasmakuta hills that are considered sacred. The temple complex is built of black basalt and looks grand. Prapita Maheshwara Temple is famous among the one who visits the city for Pind daan as the lord is accepted to be an observer divinity for this ritual.
Best Time To Visit Gaya
Gaya is a place that can be visited at any time of the year. But, the best time to visit Gaya is between October to March during the winter season. The temperature in these months would let you explore the city with tranquillity with temperature in the 20s, but it may also go down a single digit. The months from April to September is a summer season and temperature can reach up to 45 degrees Celsius. The scratching heat of this season makes the travel difficult. Most devotees visit Gaya during Buddha Purnima that is celebrated in April and May.
How to reach Gaya
By Air- Gaya is well connected by air with major cities of India such as Delhi, Mumbai, Chennai, Kolkata, Bangalore, and Ahmedabad. You can board a flight from here and reach Gaya. The nearest airport is at a distance of 7 km.
By Train- Gaya junction is a part of East Central Railway Zone and is well-connected to many cities throughout the country.
By Bus- If you wish to travel by road, Gaya is connected with major cities like Delhi, Kanpur, Varanasi, Kolkata, Agra, and few more through NH2. Or you can board a bus to Patna which is at the distance of 105 km from Gaya and from there you can board a bus to Gaya.
In Gaya tour packages from Trip Kashi, you have all the options available to choose from for traveling medium. These packages make sure that you can all the comfort and amenities during the Gaya trip.
Recent Post
Top 6 Things to Do in Chitrakoot Tour
Travel Guide to Varanasi to Make journey Unforgettable – Kashi yatra from Chennai
Top 7 Places to Visit in Kashi Yatra from Bangalore
Tourist Places Not To Be Missed In Sarnath Tours from Varanasi
Best tourist places in Gaya To Visit in Gaya Trip
Important Fairs and Festivals in Varanasi
Shop Local Souvenirs as a Remembrance and Heritage Walk Tour Varanasi
Set Free your Soul on Ghats Of Varanasi
Savor The Food You Can't Afford To Miss On Streets Food in Varanasi
All you need to know about the Holy City of Varanasi
Chitrakoot Tour, Perfect Blend of Serenity, Culture, and Divinity
Visit Ram Bhoomi, Ayodhya- an important pilgrimage in India
Best Places to visit for Ayodhya Tour